As Fall makes itself known, as leaves turn to crisp colours before their plummet, as the air begins to drop its temperature, we are reminded that next comes winter.
But before we are greeted by that frigid state, first let's see what was enjoyed in the world of stories through the autumn season, shall we?
Books:
The Tommyknockers by Stephen King
Goodreads review: http://bit.ly/2lJBGq9
Movies:


IT (2017)
Hooboy, what a difference between the Dark Tower and this! If Dark Tower was the sinkhole, IT is the new foundation set to support SK's adaptations moving forward.
While I absolutely love the Tim Currey miniseries version, I can't help but label this new film as more 'accurate'. Pennywise in the book wasn't super slapstick like Currey's take. This iteration, played wonderfully by Bill Skarsgard, seems much more predator-like, which is really what the creature known as Pennywise really is. All the kids were great too, but the standouts to me were those who portrayed Beverley and Stan. And yes, it's only (SPOILERS) part 1 of 2, but this first instalment had me definitely looking forward to part 2.
Rating: A-

Little Evil
Saw this on Netflix, and enjoyed it in the moment. It's not a film that stuck with me however, as I've seen other older (and better) movies that have approached this same idea. I'm a fan of Adam Scott, but would rather watch, say, Krampus, over this any time. A little forgettable too unfortunately.
Rating: B

Kingsmen: The Golden Circle
The first Kingsmen was a surprise hit for me. I wan't expecting much, and was instead blindsided by a really witty and entertaining take on the spy genre.
Golden Circle, although fun as well, just didn't hold up the same way the first one did. I couldn't take the main villain seriously, their plans and plot devices were a little lacking, and some of the humour surrounding them didn't impress me. At least not as much as the first.
The cast themselves did a great job though, and sold me on the expanding world. I just wish the plot had been a little better.
Rating: B+

The Monster Project
Found footage movies are almost always the same. But it's that rare one that manages to break that mold that stays with me, and Monster Project managed to do that.
I loved the premise, the attempt to interview people who believe they are monsters in order to make them appear crazy, only for it to of course turn out they really are monsters. The crew managed to pull off some really great moments as well, considering the VERY low budget they had. Compared to other films of its type, I was really impressed.
Rating: B+

Gerald's Game
Also on Netflix, this film continues the Stephen King train into rising quality zones. This entire movie hinged on the performance of Carla Gugino, and she delivered. One of the best performances I've seen this year. The woman deserves an award, somewhere.
My only one gripe was what seemed like a toning down of the 'supernatural' aspects, compared to the book. They were't shown as much really, but it wasn't enough to strongly take away from the experience.
Rating: A

Blade Runner 2049
I've read that this movie didn't fair well in theatres, that people didn't flock to see it. That's too bad, because although it's certainly not a perfect film, it is one of the few out there that does an amazing job of drawing you into its world. The production design alone had better win an oscar.
The story somewhat evolves from the first film, and approaches existential questions of humanity in ways that are both impressive and haunting.
The plot could have expanded slightly, but maybe there were/are plans for another?
Very impressed.
Rating: A

1922
And, rounding out the trifecta of great SK adaptations comes 1922, based on a novella. It's what you would call a 'slow burn' story, but it's a burn you certainly feel. A cautionary tale about a man driven by obsession and greed, it was difficult to root for the protagonist. But that's a good thing. It added to the dread, and keeps you wondering how it all pans out. A bit of an out-there performance from Thomas Jane, but one that was well committed and keeps you unsettled throughout.
Rating: A-
Shows: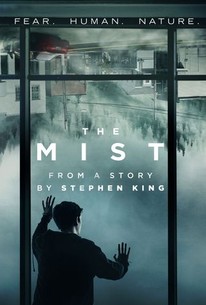 The Mist S1
And of course, it seams for every one or two great SK adaptations out there, there's a clunker just waiting around the corner. This show is one of those clunkers.
All but one of the characters are all idiots or unlikable in annoying ways, and then even the one good one completely trashes that at the end of the finale, to seem like a badass? To teach a lesson? Either way, it was a complete betrayal of his character, despite the circumstances.
Too many characters jump to idiotic conclusions. This of course tend to get them killed, but it's really just lazy.
I'd be surprised if there is another season. I won't be watching it.
Rating: D+

Stranger Things S2
I loved the first season. The nostalgia. The D&D. The Nerd Power. The Demogorgon. Eleven. All of it.
The second season carries on from the first, and unfortunately lost me a little. This is just a personal reason, but at the end of the first season it seamed like a wide-open window to start dealing with multiple dimensions. Altogether different stories that all have the same connection of being attached to small town Hawkins, IN. Sort of in the way the TV show Fringe approached it a few years back.
But by simply continuing the same story, with the same alternate reality, and the same creatures, it deflated it just a little for me.
Also, there is one episode in the season, where Eleven heads to the big city and meets cookie-cutter 80s caricatures, which doesn't even add to the story in any real way, that I really felt simply bored. There were a few wasted moments in there where they really could have highlighted her potential more.
Speaking of highlights, the standouts this season though were Dustin, Steve, and newcomer Max. Looking forward to more of them.
Rating: B
There we go, stories I enjoyed prior to the coming winter months. I imagine one or two of those go against the grain, but hey, there 'ya have it.